DATES FOR YOUR DIARY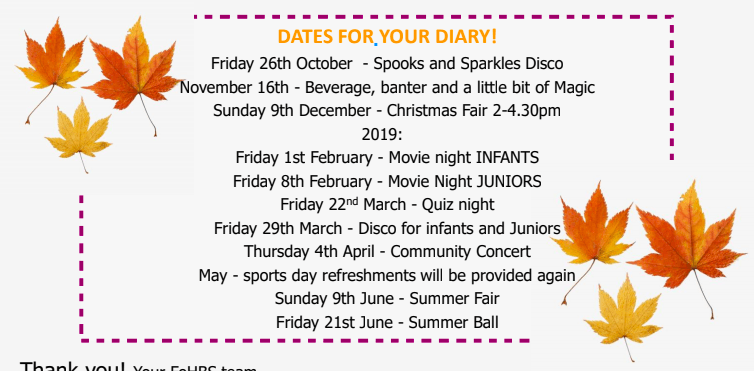 Friday 26th October
- Spooks and Sparkles Disco (
form here
)
November 16th - Beverage, banter and a little bit of Magic - forms going out next week - 8pm in the school hall, tables of 10, £10 per head including a drink
Sunday 9th December - Christmas Fair 2-4.30pm
2019:
Friday 1st February - Movie night INFANTS
Friday 8th February - Movie Night Juniors
March - Quiz night - date TBC
Friday 29th March - Disco for infants and Juniors
Thursday 4th April - Community Concert
May - sports day refreshments will be provided again
Sunday 9th June - Summer Fair
Friday 21st June - Summer Ball
DONT FORGET!
When you are shopping online at stores such as Amazon, Sainsbury etc please remember to access them through the following site: http://www.easyfundraising.org.uk/causes/highbeeches this way FOHBS will receive a small percentage of your order amount and at no extra cost to you.
School labels – order at www.stamptastic.co.uk Enter BEECHES when your order and we receive 30% cashback

Money raised at all our FoHBS events is used to provide some wonderful resources, equipment and experiences for the children. Please see below for an update on recent fundraising events; plus an update on how money has been recently allocated.